I wasn't looking for another dog to add to the Pack - plenty here needing homes. Well, you know, sometimes God has other plans, and thus,
Crimson Tide, self referred stray Beagle mix in isolation pen
Crimson Tide, aka Red, came to
Silverwalk Hounds
. I arrived home from St. Louis a week ago to find my normal three escapees with a new friend. CT is on
Facebook
(and will be again when I post this entry), spent a few days at our local
Humane Society
, is posted as FOUND with vets, yet no one has claimed this dog, who surely was a hunter and a family dog.
CT is an incredible dog for a stray. He's in good weight, very happy, no issues I've found but one: he appointed himself my ride along dog. Unless he's in a house crate, he is at my car door anytime I leave. In the current Midwest heat wave, this means when I do my errands, CT stays in the car with the AC running. He is very polite - even when I had dog food in the car, he paid no attention to it - he prefers to watch the world go by.
Keeping tabs on his driver


This dog, Crimson Tide, sits to command, comes, follows my finger and voice ("go up" the stairs), not yet bothers the intact females (he is still intact pending owner claim, but scheduled for neuter next week). He is an awesome dog who had a home and needs a new one - preferably in the country and with other dogs 'cause he jumps my porch - sigh. He is now up to date on shots, too. Definitely a house dog accustomed to going everywhere with his dad/mom or family.
He likes air, too; I like child proof window locks!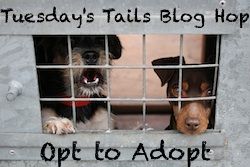 Thanks to
Dogs N Pawz
for this week long Adoption Blog Hop!